Vocal Package Sign Up
To sign up for our vocal packages, you may choose to pay the fees by Bank Transfer, PayNow, PayPal or Credit Card.
Payment by PayNow / Interbank Transfer
Find your preferred time slot from the scheduler on Lessons Booking page.
Contact us via WhatsApp
PayNow transfer the package fees to our UEN number: 53203708A, or save and scan the QR code with your internet banking app to do the transfer.  (Remember to put down your first and last name at the Bill Reference field.)
For those who prefer interbank transfer, please
Take a screenshot image of the transaction.
Send the transaction image to us via

Your full name
Your email address

An email confirmation will be sent upon verification.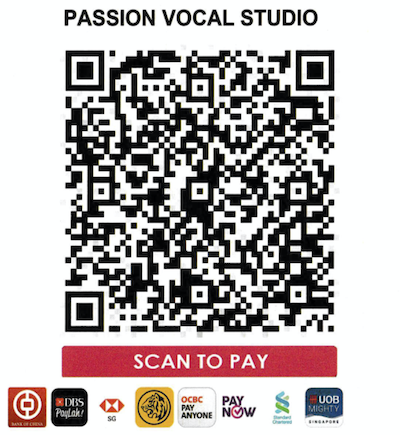 Payment by PayPal / Credit Card
Contact us via WhatsApp
Proceed to purchase the package below.
An email confirmation will be sent to you upon successful payment transaction.